The billing software that helps you save time
Create and send your bills in less than one minute.
Know in real time their state: received bill, seen, accepted or rejected.
Store them in a safe place that can be accessed no matter where you are.

REGISTER FOR FREE FOREVER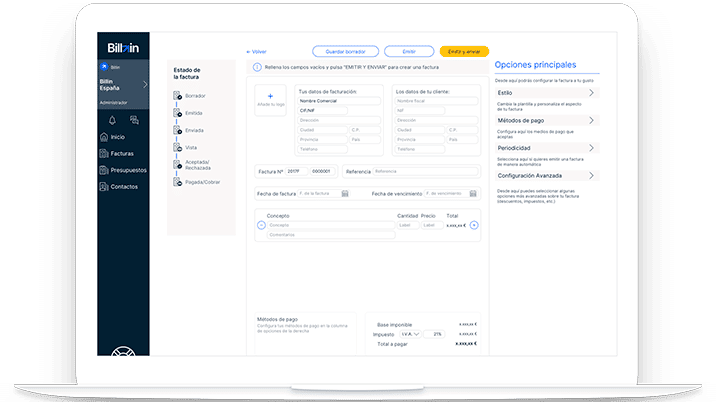 Discover the functionalities of Billin
We have developed the most powerful and safest billing software on the market. And the best thing, it is free!

Clients and suppliers bills
Organize your bills in Billin. All your clients and suppliers' bills in the same place.

Create your list of products
Billin keeps automatically the list of your products/services to make easier the issuing of the bill.

Control the state of your bills
Track your bills. Know in real time if it has been received, seen, accepted and paid.

Mobile version
Access from any device in any place. You will always have the information available.

Credit card and direct billing
Be paid and pay your bills by direct billing or credit/debit card.

Connect with you manager
Share the information with your manager with only one click.
Or leave us your number and we will call you back:
Why do our companies like Billin?
Kukut Estudio, Desarrollo de apps
"Essential for my daily life, helps me save a lot of time by enabling automatic invoice collection."
Javier, Nidus Coworking
"Billin is the best billing software I have ever had; easy to use, with numerous possibilities of payment and above all, with people behind that listen every doubt/proposal of improvement you may have."
Andrés Taboada, freelance translator
"Billin offers me all that I was looking for. Easy but at the same time complete, its platform is ideal for freelance projects like mine."
Marco Antonio Pérez, Taiko Solutions
"What I thank the most to Billin is seeing that my clients have downloaded the bills, so I can keep control of my payments and incomes in a much more efficient way."